If you are interested in being in our photo gallery, please send a picture and write a few sentences in your language, describing your impressions about us.
Maite and Luka from Spain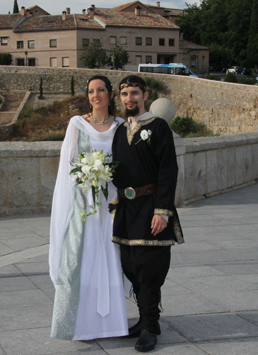 Hello Jenny As I said back in february I'm sending you few pictures of the wedding that happened in 24th of May. It was lovely, everybody loved the dress. We got married in Toledo in a saturday afternoon, so we were the attention for all the tourists :) Thank you again for everything. Cheers from Spain!! Maite and Luka
Marie-Charlotte & Husband from France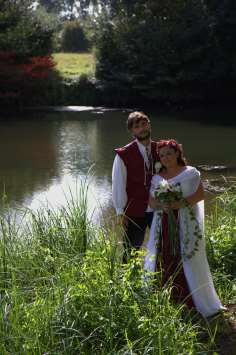 Bonjour...quelques photos pour vous faire voire votre travail! Enorme merci la robe et le costume était magnifique!!!
Diane & Husband from France
Je suis Diane, je vis en France et Jenny et Kay m'ont créé ma robe de mariée médiévale sur mesure. Je ne parle pas l'allemand et très mal l'anglais, et je me suis débrouillée avec un traducteur en ligne ! Ma robe a été faite très rapidement comme je le voulais et me va comme un gant ! Un travail très professionnel du début à la fin avec beaucoup de gentillesse et de rapidité ! Franchement je ne regrette absolument pas ! Un grand MERCI !!!
Jo & Richard from Australia
Hello Jenny, Finally here are a couple of photos from my Wedding at the end of November 2011. Sorry it's taken me so long to get these to you. Thank You so much once again for such a Wonderful Dress, everyone commented on how beautiful and different it was :) Warmest Regards Jo (and Richard) Patton :)
Claudia & Nick from England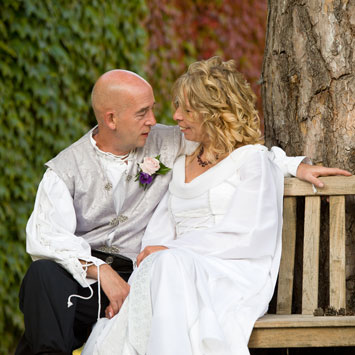 Samantha & Axel from Switzerland
Merci pour votre travail formidable! La robe est vraiment parfaite! Tous les invités ont été bluffé! Un moment inoubliable, grâce à vous. Samantha & Axel
Hélène & Jean-Baptiste from France
Bonjour, voici quelques photos de ma robe de mariage. Une très grande réussite qui m'a valu les éloge de tout le monde. La robe était superbe et corespondait tout à fait à ce que je voulais, ambiance celtique pour mariage breton. Merci à l'équipe de Corde Micante ! Hélène Mariage de Hélène et Jean-Baptiste, de France (Bretagne)
Dévy & Husband from France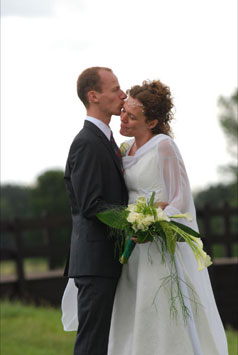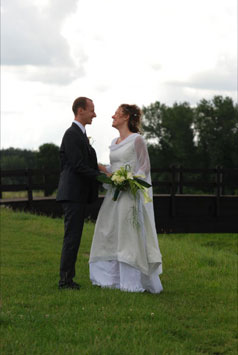 Hello Jenny, I promised to send you a picture of my wedding with your beautiful dress. Here are some. Greetings Dévy
Laetitia from France
voici deux autres photos ou l'on voit la magnifique robe que vous m'avez confectionné. encore une fois merci LAETITIA
Caroline and Denys from France
Bonjour Jenny, One year after, I think to send you a photo of my wedding dress. Thank you so much to have done exactly what I wanted. As you can see, I have used the belt to do a tie for my husband with the color of the dress. The very good quality of the cloth and of your work allowed to do it easily. Everybody said we had class, it is thanks to you, thank you still. Good continuation in your work, Sincerely. Caroline et Denys
Monica & Husband from Spain
Hi Jenny, Thank you very much for such a beautiful dress. I like very much both dresses I have bought from you :-) Here you have photos of my wedding in December this year and also the photo with the other dress I bought in 2006 (the blue one). Thank you very much for all! Monica
Veronique & Husband from France
Dear Jenny, Please find some pics of my wedding. The dress was so wonderful that I felt like a princess. Thank you for having helped me to make this day a dream. Best wishes
Jérome & Laetitia from France
Merci pour cette magnifique robe, je n'ai eu aucune retouche a faire. elle est splendide, encore merci. je vous envoie quelques photos de notre mariage Jérome et Laetitia
Aude & David from France
Hello Jenny!! Wonderful wedding exactly!! I just want to thank you very very much for this magnificient dress, i was very happy to wear this dress for my wedding!! I send you a photo for your website and really, congrats for your patiently and your very good work!! Thank you soo much! Aude & David From France
Carmen & Hugo from Spain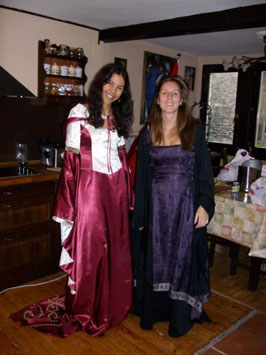 Hugo y Carmen from Spain. Making a dream come true...Thank you very much for your dresses. Best regards!!!!!!!!!
Elsa and band Fenrir from France
Hello Jenny! Here are photos with the dress. Thanks a lot! Elsa and band Fenrir from France
Anne-Flore & Husband from France
Bonjour, C'est Anne-Flore de la France, je me suis mariée en décembre 2008 dans la robe que vous m'avez faite. Merci Anne-Flore
Mercedes & Husband from Spain
Dear Jenny: First of all excuse me because the delay of my email. My wedding was on July 18th and everybody congratuled me about our dresses. I've attached a couple of pictures of the dresses, you are free to use them. My daughter was wonderfull and the ceremony was like a fairy tale. Thank you for your work and effort. Sincerelly yours. Mercedes Soriano Campos Úbeda - Spain
Jowanna from Greece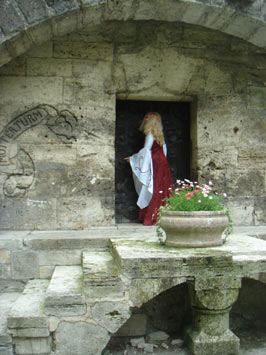 hallo!!! ich wollte mich nochmals für die Zustellung und die gute Qualität bedanken. mit lieben grüßen jowanna
Nadine & Son from France
Un trés grand merci pour la création de la robe qui m'a permis d'être si bien à mon aise pour le mariage de mon fils Je n'hésiterai pas à vous recommander et également faire à nouveau appel à vous pour une autre occasion Trés cordialement Nadine PS: j'espère avoir d'autres photos à vous proposer bientôt
Cécile & Bruno from France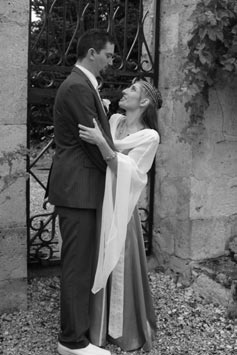 merci pour les fleurs, merci pour la robe et la cape , merci pour les bijoux tout était parfait Mille fois merci Cécile & Bruno
Audrey from France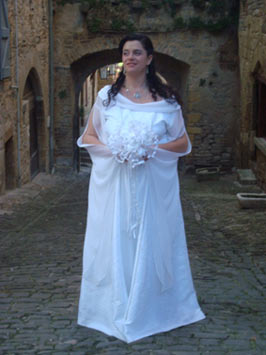 16 Mai 2009 Nous nous sommes mariés dans village médiéval très connu dans le Tarn et vraiment, j'étais en parfaite adéquation avec le site. Merci pour votre professionnalisme, merci d'avoir fait, avec nous, de ce jour, un rêve merveilleux! AUDREY ET MATHIEU, TARN, FRANCE
Sylvie from France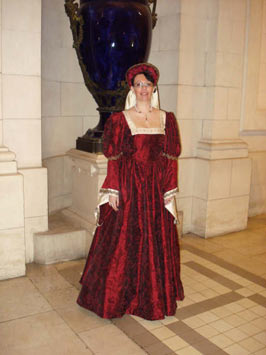 ça a été un vrai bonheur de porter cette robe au bal renaissance de tours merci à vous sylvie
Sylvie & Husband from France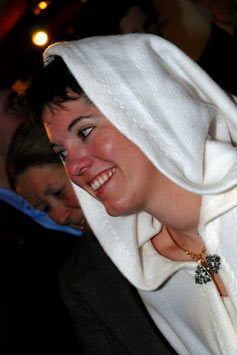 Hello, Here are some photos of my wedding, in last december. I was really happy to have bought one of your capes : the sun was here, but the weather was still very cold ! The cape was nice and warm, and so uncommon, everybody told me it was a surprising, but very good, idea! Best regards, Sylvie Menuel - Genuer
Nikki & Luke from Australia
Hi Jenny, Thank you so much for all your great service, the dress was beautiful and fit perfectly! Nikki
Ruth & Iván from Spain
Dear Jenny and dear friends in Corde Micante, As i promised you, here you are some photos from our wedding day. Thank you very much for your work!! Best wishes!! Happy New Year!!
Kayla & Mark from LA, USA
I wanted to let you all know that the dress was goregoues!!! And everyone thought so who saw it! And they couldn't believe that I had gotten it from Germany no less! Between the dress, the day, and the smile on my face, my new husband was in tears. Thank you all again so much and I hope you enjoy these photos as much as we enjoyed our day! If ever I need a dress like this again, you all will be the first I come to! Kayla D. Beatty
Fanny & Husband from France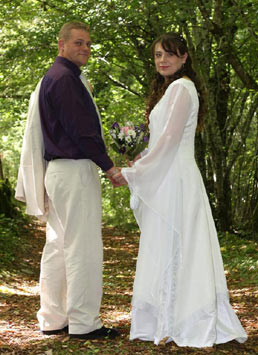 Thank you very much. The dress n° 19 was wonderful. Fanny RICHARD
Elisa & Greg from France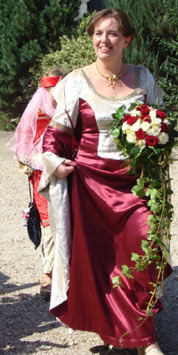 Estefanía from Spain
Hello Jenny, I send you a photo. You can see the dress it`s beautifull best wishes Estefanía
Céline & Alain from France
Hello here is the picture of marriage. thank you for your sumptuous dress Deveaux Céline & Alain
Congratulations for Valérie & Matthieu from France
Hello ! As promised , I send you few pictures of us ! My dress was gorgeous and all the guests were impressed by your work !!! Thanks a lot !!!! Valérie & Matthieu from France
Congratulations for Suzanne and her Husband from England.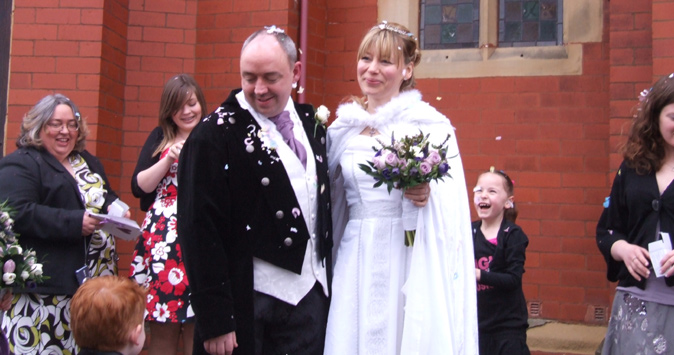 Hi Just thought I would send you some photographs from our wedding, thank you so much for making dress. Regards suzanne Jerram
Congratulations for Nadja & Björn from Germany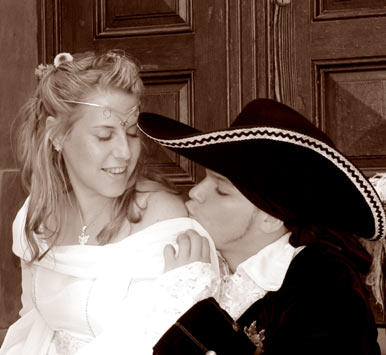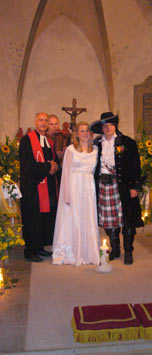 Hallo liebe Jenny, vielen lieben Dank für die liebe und gute Beratung bei der Wahl der Kleider von meiner Mutter und mir. Björn und ich hatten am 1.9.07 eine wunderschöne Hochzeit auf Burg Guttenberg. Alle waren total von Euren Kleidern begeistert und wollten gleich wissen, wo wir die herhaben ( vorallem die Mädels :-) ). Eure Kleider sind nicht nur wunderschön, man fühlt sich darin auch wie eine Königin aus längst vergangerner Zeit. Ich freue mich schon riesig auf das nächste großere Fest, dann kann ich mir wieder ein neues Kleid bei Dir bestellen :-) Anbei sende ich Dir ein paar Fotos von unserem Fest. Danke und viele liebe Grüße aus Backnang Nadja Kirsten
Congratulations for Sylvie and her Husband from France.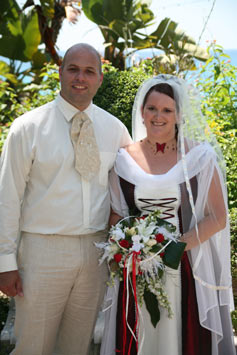 Hello, I wanted to send you the pictures of my wedding on July 07th, 2007 with this beautiful dress you accomplished and that in had a big success, I am very happy, I thank you very much. See you soon Sylvie
Congratulations for Lydie and her Husband from France.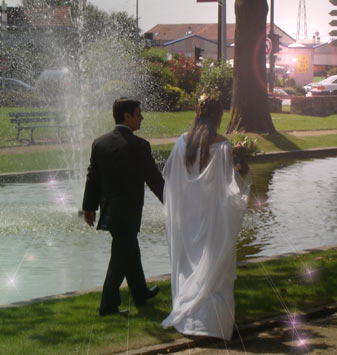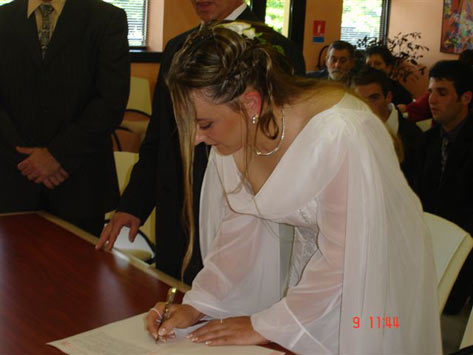 Un grand merci pour la robe : la coupe était parfaite, tout était parfait. Vous avez contribué à réaliser mon rêve. Ci joint les photos de mon mariage, sur le thème médiéval. Cordialement, Lydie
One thank you for the dress: the cup(cutting) was completed, everything was completed. You contributed to realize my dream. This joins(contacts) the photos of my marriage, on the medieval subject. Kind regards, Lydie
Ein großes Danke für das Kleid: das Schneiden war vervollkommnet, alles war vervollkommnet. Sie haben dazu beigetragen, meinen Traum zu realisieren. Hier legt die Fotos meiner Heirat, auf dem mittelalterlichen Thema bei. Mit freundlichen Grüßen, Lydie
Congratulations for Jennifer and Agripino from Florida, USA.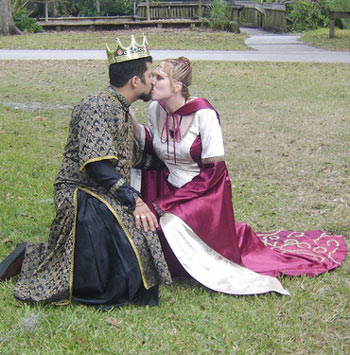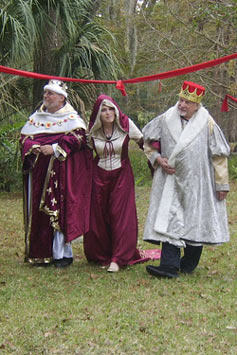 Here are the wedding pictures of my medieval wedding. Here I am in the gown! My husband, Agripino, who is Puerto-Rican, looks like King Aurthur! Thanks again! Jennifer Fox-Bezares
Congratulations for Lora and Arran from England.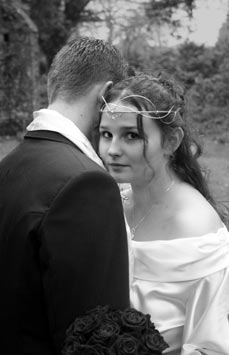 Hello! Thank you for the gorgeous wedding dress you had made for me at the end of 2006 :) It arrived very quickly, fitted perfectly and was exactly what i wanted; it really made me feel special and was perfect for our medieval themed wedding on 24th March 2007!! Many Thanks Lora and Arran Leathead, England
Congratulations for Carla and her Husband from England.
hi Just wanted to say thanks for a quick delivery on my dress and that it was perfect for my special day. I have attached a couple of photos that you may want to use. many thanks carla
Delphine from France
Hello! thank you, the dress is very beautiful
Congratulations Helena and Michael from England.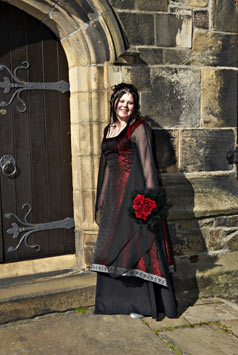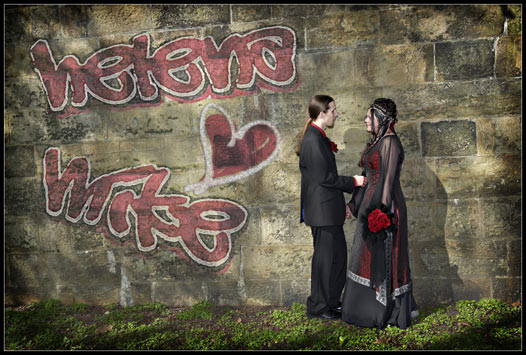 hi, just wanted to say thank you for making my wedding dress, i had a wonderful wedding day(1st May 2007) and everyone kept commenting on how beautiful and unique my dress was. i truely felt like a princess, my husband loved the dress too. Thank you once again. Helena and Michael(from england)
Lillejan & Alain from France.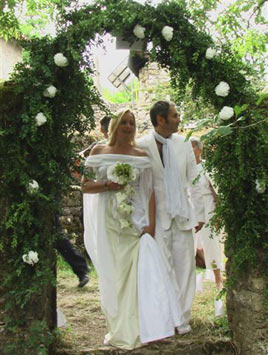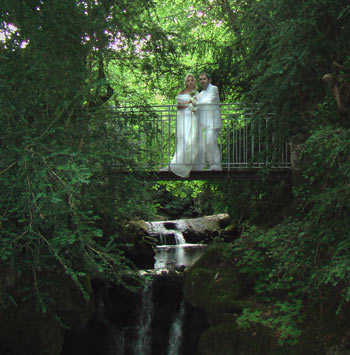 Hello Jenny Some photos of our wedding Friday the 20th july. Your dress was beautiful and much appreciated. Tank you very much to make so nice clothes and for contribute to our wonderful wedding. Lillejan & Alain
Congratulations for Sam and her Husband from England.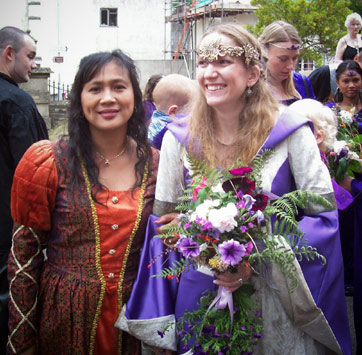 Just would like to say thank you once again for my beautiful dress, No.2 (in purple) would you like me to e-mail you some photo's? meant to do this last year, but forgot, our wedding date was 19th August, dress was in the name of Sam Hillyard, I am now Mrs Wiggins, and I am very happy
Estelle & Frédéric from France
Estelle et Frédéric Un grand merci pour cette robe magnifique qui m'a accompagner le plus beau jour de ma vie!
Céline from France
Susanne Hubinger & Xantos from Austria
Hallo!! Wie versprochen sende ich Fotos vom traumhaft schönem Gehrock. Hier einige Fotos von der Pferd Wels ( 17.Mai - 20.Mai), Oberösterreich Mein Name ist Susanne Hubinger und mein Pferd heißt Xantos. Er ist ein Kladruber (Barockpferd). Sie können, wenn sie wollen die Fotos gerne in die Galerie mit hinein geben.Würde mich darüber sehr freuen. Noch etwas, unsere Showtrio überlegt sich die nächsten Kostüme bei ihnen nähen zu lassen.Würden dann wahrscheinlich sie in Deutschland aufsuchen. Wünsche noch einen schönen Abend und verbleibe Susanne Hubinger
Congratulations for Berncie and her Husband from England. We wish you to stand on your vows of love for all the world to see. Woman and man, hand in hand from now into eternity.
Hi Jenny, please find attached pictures of our wedding which took place on May 4th 2007. As you can see, the weather was perfect and a brilliant day was had by all. My dress was everything I had dreamed of, lots of guests commented on my outfit. I wore it with medieval moccasins in cream leather and a gold circlet in my hair. Thanks once again for helping to make my day so perfect. My husband cried when I walked the aisle, he said that I looked so beautiful he fell in love with me all over again! All the best, Warm regards, Berncie Mckenzie.
Fatima and her Husband from Spain .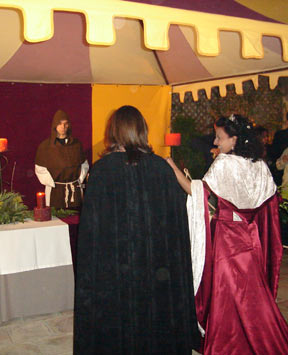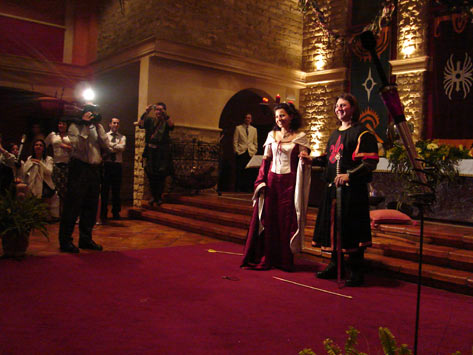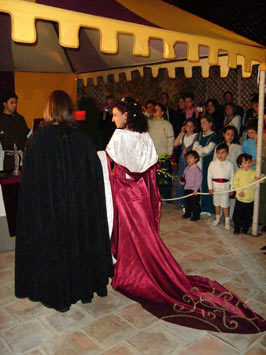 hola Jenny: Gracias por todo, y perdona por no haberte mandado las fotos antes, ha sido una boda medieval muy bonita, y aqui en Córdoba estas invitada para cuando quieras , muchos besos de parte de Jorge y Fátima.
Congratulations for Orly and her Husband from Israel. As you begin your life together, may your happiness be bliss. A new beginning, a true love story- this to you we wish.
Dear Jenny hello from Israel I would like to thank you from the bottom of my hart for making my wedding dress. It is a wonderful dress and I got allot of complements. It rally felt like a dream wearing it and it made this happy day perfect! I felt comfortable in it and during the hall day and everyone that saw me in the dress seed that I look likes real princes. I will be more then happy to advise to any bride to be that wont a special dress fore this important day to contact you. And hopefully she will be as happy as I was that day. Agene thank you very mach fore making my dream wedding dress Best wishes from Beer-Sheva Israel Orly Steiman-Siegel
Diana & Marco from Switzerland
Hallo liebe Jenny und Team Lange hat es gedauert, aber nun wollen wir Euch endlich ein paar Hochzeitsfotos von uns zusenden. Die Hochzeit war wunderschön und Ihr habt einen grossen Teil mit den schönen Kleidern dazu beigetragen. Vielen Dank nochmals an Euch alle für die tolle Arbeit und Betreuung. Wir haben Euch gerne weiter empfohlen. Viele liebe Grüsse Diana & Marco Keusch
Anne-Flore from France
merci pour cette belle robe. elle est parfaite. Anne-Flore.
Marion from France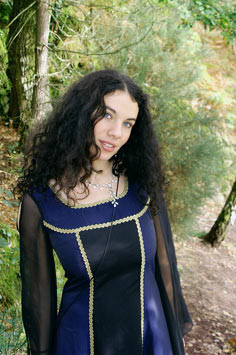 hello I bought to you 3 dresses this summer and two red capes. I send you photos off me with one of the dresses :) thank you because they're great ! cordially marion
Congratulations for Jo & Rob from Great Britain. In your marriage we wish only the best for you as you join hands and what was once one has now become two!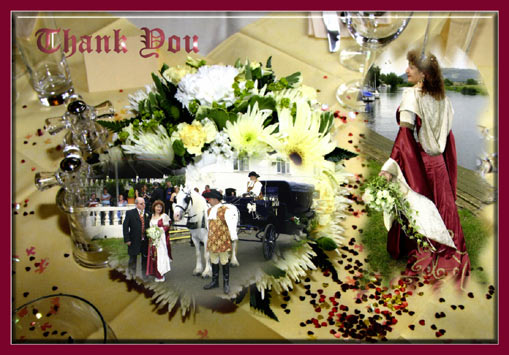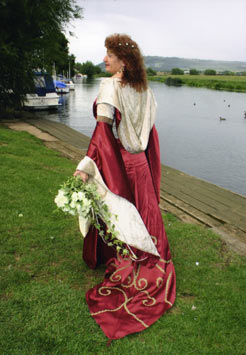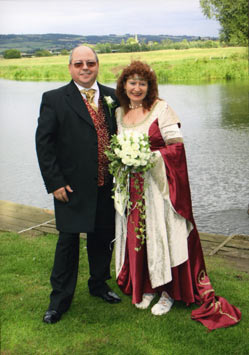 Congratulations for Catharine and Ben from Tanzania. May sunshine and happiness be your everlasting friend, and may it never find an end. The best wishes for your future.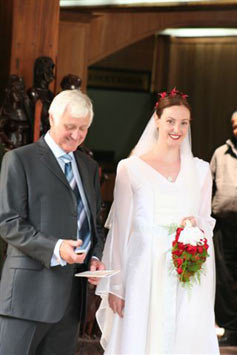 Thank you to Jenny and the whole Corde Micante team for making me look and feel like a princess for a day. I so enjoyed working with you and intend to put another order in as soon as possible. Thank you thank you thank you it was the best day ever! Catharine xx
Kerstin & Detlef from Germany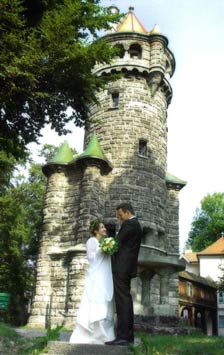 Hallo liebes Corde Micante Team…es ist ja schon ein Weilchen her, seit ihr mit eiliger Nadel das tolle Kleid für mich genäht habt. Es hat natürlich ganz hervorragend zum Landsberger Mutterturm gepasst, wo wir am 14.07 geheiratet haben. Abends wurde es dann stilgerecht noch zum Kaltenberger Ritterturnier ausgeführt. Alle sind ganz begeistert gewesen….vor allen Dingen habe ich mich darin "sauwohl" gefühlt. Vielen, vielen Dank !!! Kerstin & Detlef Sylvester aus Neu Wulmstorf
Katharina & Thomas from Spain
Estimado elenco de Corde Micante: Hemos casado en Frankfurt en 18 de Mayo de 2006 y ahora hemos retornado a nuestra nueva patria Gran Canaria. Queremos agradecer a ustedes por el vestido bonito y especialmente a Jenny, por responder nuestras preguntas y por realizar todos deseos de nosotros. Mucha gente han adorado el vestido, aun turistas japonésas y inglésas han preguntado por tomar fotos de nosotros. En dos semanas vamos a celebrar nuestra boda tambien en Gran Canaria con nuestros amigos canarios. Estoy feliz de poder llevar mi vestido otra vez. Muchos saludos Katharina y Thomas
Mady Van Criekinge from Belgium
Dear Jenny As promised here are some photos. Every one, who saw the dress, was enchanted of its beauty and quality. The youngest told that I was looking like a princess. I specially want to thank you, that not only mannequin's canes were you dresses. That women with a size more cane feels special in one of your beautiful gowns. I still will regular visit the site perhaps, you never know, there will be a second.
Iedereen die het kleed zag was verwonderd over de schoonheid, alsook over de kwaliteit en de afwerking. Ik wil jullie speciaal bedanken, dat de jurken niet alleen voor mannequins gemaakt worden. Dat ook vrouwen met een maatje meer zich speciaal kunnen voelen in een van jullie prachtige jurken. Greetings Mady Van Criekinge Belgium
Congratulations for Clare and Simon. We wish you everlasting love, happiness and a never ending honeymoon.
SIMON AND CLARE FROM WOLVERHAMPTON, ENGLAND WEDDING DAY -24 JUNE 2006 A FANTASTIC DAY SHARED WITH CLOSE FRIENDS AND FAMILY A PERFECT DAY, A PERFECT DRESS!
Vanessa from France
Je voulais remercier corde micante pour toute la simpathie et le dévouement dont ils ont fait preuve et pour la magnifique robe que j'ai commandée dans des délais plus que satisfaisants. Pour ma part, je n'ai absolument pas été déçue de ma commande, qui est il faut le dire d'une très grande qualité et très bien finie. Je voulais aussi ajouter pour toutes les personnes qui seraient tentées de commander mais qui n'oseraient pas car c'est un site allemand de ne pas s'arreter a cela, vous pouvez tres bien passer commande en Anglais sans probleme et le service client est vraiment bien assuré si vous avez des questions ou un soucis quelconque. En tout cas un grand merci de notre part a corde micate pour son superbe travail et sa disponibilité. Pierre et Vanessa.
Congratulations for Gaia and her Husband. May your life together be like a never ending dance, where laughing, love and happiness never ends.
Gaia and her Husband from England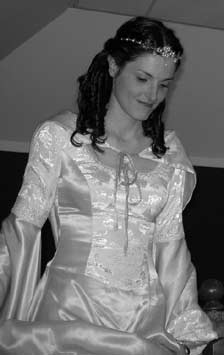 Jenny, it's diffcult to say how much I would like to thank you for the dress you made... I felt like living a dream and people were astonished, too... I was told children were pointing at me saying "Look mum, she's like an Elfprincess!" !!!!Thank you so much!! Kind Regards Gaia Buggin Ferrari
Isaline Feremutsch from Switzerland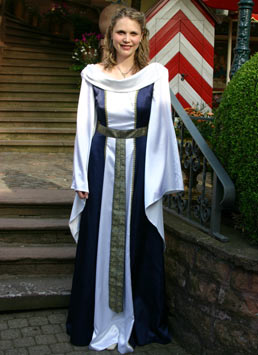 Bonjour, Merci beaucoup pour vos robes qui étaient vraiment superbes. Je vous envoie ci-joint quelques photos en souvenir de cette merveilleuse journée. Meilleures salutations. Isaline Feremutsch
Congratulations for Helena and her Husband. We wish you a beautiful and lovely time together. All the best to England
Helena & Husband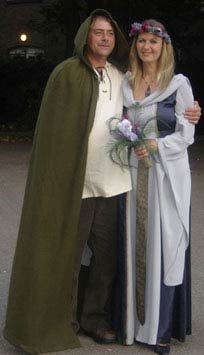 Hi Jenny Hope you are well. To let you know that we had a WONDERFUL wedding on 14th Sept - and the sunshine came too! We caused a gasp from people in St Albans Herts, who thought it might be a film set! I hope you receive these, and a big thank you as previously said for all your help. Peter's cape looks wonderful Very best wishes Helena x
Julia & Simon from Germany
Susanne & Martin from Germany
Sandra & Husband from Germany
Claudia & Roland from France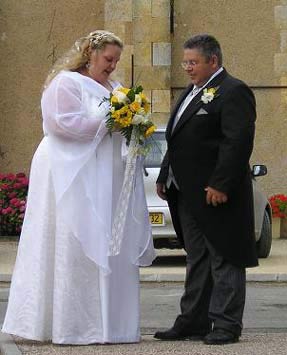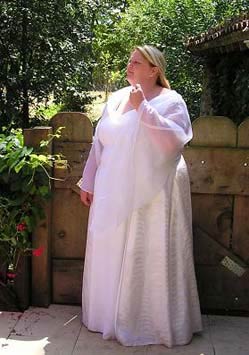 Sandra & Rüdiger from Austria
Teresa & Thomas from Germany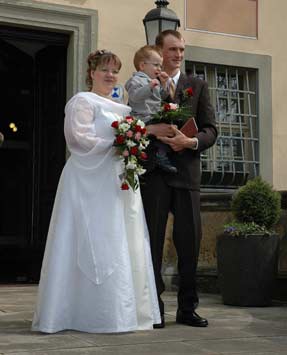 Debora & André from Germany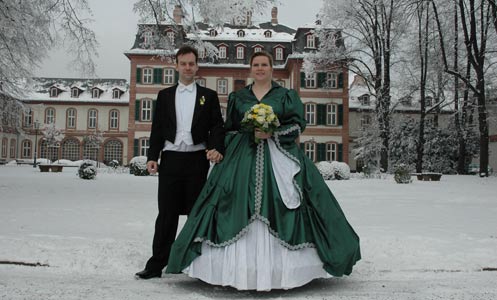 Ivonne & Heiko from Germany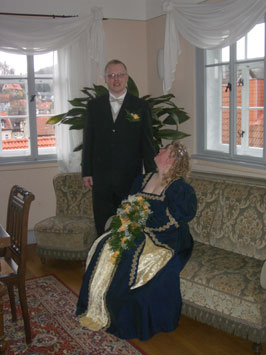 Miriam & John-Patrick from Germany
Silke & Thomas from Germany
Susi & Sönke from Germany
Petra from Germany
Tanja & Band "emerald edge" from Germany
Marita und Sybille from Germany